Category: Outlook & Exchange / Exchange Online

To count the total number of folders in use within a mailbox, first connect Powershell to Exchange Online, then:
$MailboxToCountFoldersWithin = Get-Mailbox username
$MailboxToCountFoldersWithin | Get-MailboxFolderStatistics | Measure-Object | Select-Object -ExpandProperty Count
The total number of folders, will be output as a number.

It can happen fairly easily, that one or more user's Office 365 login is wrong, and AD Sync fails to correct it. Here is a manual override, courtesy of the excellent Joe Busby.
On a domain controller, verify the AD username and proxy addresses is set correctly.
Connect to O365 Powershell on any machine with Powershell 5.1, and run this command:
Set-MsolUserPrincipalName -UserPrincipalName "user@old.address" -NewUserPrincipalName "user@new.address"
On the user's PC:

Navigate to Settings > Accounts > Access work or school
Disconnect from any accounts linked to the new or old username
Hit the [ + ] Connect button and provide the credentials to sign in to Office 365
If their password has been changed since their account was synced up with the wrong username, the password may need to be reset.
Remove any credentials from windows credential manager that match the old username.
Check Outlook, you may have to create a new profile.



Here is a utility:
http://www.nirsoft.net/utils/outlook_nk2_edit.html
which does an excellent job. It will edit, merge, save copies, et cetera. It works also with later versions of Outlook which use .DAT files instead of .NK2 files.
There is also a Microsoft page, with a utility linked, reported to be excellent:


Once you install the Office 2016 templates:
https://www.microsoft.com/en-us/download/details.aspx?id=49030
you can set the maximum sizes: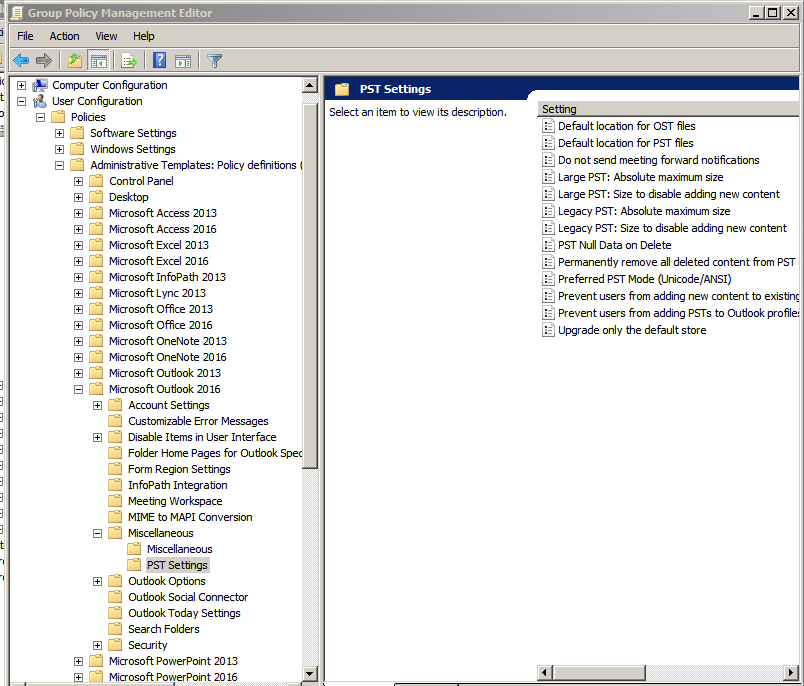 If you see this while trying to share a calendar to another Exchange or Exchange Online user, thus far this has been seen to be caused by (a) duplicate Permissions user entries in the calendar, and (b) user entries in the calendar belonging to deleted, disabled, or otherwise invalid user accounts. Remove the duplicates or invalids, and it goes away!